Home | Advertise | About us | Privacy Policy | Pics | Wallpapers | Articles | Links
WTA Draws
Eastbourne
Ordina Open
Birmingham
French Open
Strasbourg
Vienna
ATP Draws
Queens
Halle
French Open
St-Polten
Barcelona
Munich
Commitments
WTA
WTA Players
Henin-Hardenne
Clijsters
SWilliams
VWilliams
Davenport
Capriati
Dokic
Sharapova
Kournikova
more…
ATP Players
Hewitt
Agassi
Safin
Roddick
Ferrero
Henman
Blake
Gasquet
more…
More
Bet on tennis
Contribute
Your tennis
2002 schedule
Most beautiful
Most talented
Most handsome- ATP
Most talented-ATP
Photos
Rankings
Tournaments
Multimedia
Tennisrulz shop
Articles
Links
Contact us
Message Board
Main Board
Dokic
Kournikova
Chat
Main Chat
Maria Sharapova @ maria-sharapova.net
Join our list to receive news about Maria simply put your e-mail below:)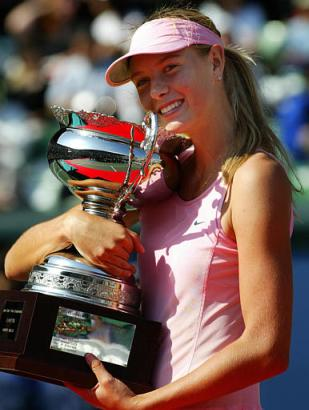 MEET RUSSIAN GIRLS
Latest News
đồng hồ rolex super fake
June 13th 2004: Congratulations to Maria who posted a 4-6, 6-2, 6-1 win over Tatiana Golovin today. It is a third title in singles for her, a first in 2004 and first on grass:) In doubles, Maria and Maria Kirilenko also won the final, 6-2, 6-1. "This is the best possible preparation for Wimbledon, the best you can get. I've had some tough wins here and winning a title always gives you the confidence to think that you can win more. I always believe I can win the title when I enter an event."
June 12th 2004: Both Maria's advanced to the doubles final with a 6-4, 4-6, 6-2 win, they will face McShea and Sequera:)
June 12th 2004: Maria needed 3 sets but was able to advance to the singles final with a win over Patty Schnyder, she will now face Tatiana Golovin, another top prospect on the WTA tour.
June 11th 2004: Masha advanced easily with a win over Alicia Molik today, next up she will face the #2 seed Patty Schnyder.
June 10th 2004: No problem really for Maria today as she dismissed Samantha Stosur to advance to the quarters, she will face Aussie Alicia Molik. Maria and Maria Kirilenko won their second match in doubles, against Krizan and Tu as they now advance to the semifinals!
June 8th 2004: Maria won her first singles match 6-2, 6-2 against Jamea Jackson today! She will face Samantha Stosur or Milagros Sequera next.
June 8th 2004: Playing in doubles with Maria Kirilenko, they won their first round against Li and Sun, the #2 seeds!
June 7th 2004: Hopefully Maria can get her grass season going as well as she did on clay. She is now scheduled to play this week in the DFS classic in Birmingham as the #3 seed! She has a first round bye, you can see the full draw here.
June 1st 2004: Maria did not have a very good day today in Paris, she lost her patience on many occasions against the very experienced clay court player Paola Suarez… Maria finally went down 6-1, 6-3. Still, congratulations to Maria as she reached her first French Open quarterfinal and will now prepare for Wimbledon, a surface more suited for her game…
May 31st 2004: Maria is scheduled to play the first match tomorrow on Suzanne Lenglen court at noon, as she will face Paola Suarez.
May 30th 2004: Maria defeated Marle Weingarnter is straight sets: she is now in the quarter-finals, what a tournament for Maria up to now ! Her QF opponent will be 14th-seeded Paula Suarez.
May 28th 2004: Another huge step for Maria as she defeated Vera Zvonareva 6-3, 7-6 to advance to the 4th round, where she will face Marlene Weingartner !
May 26th 2004: Maria advanced to her first ever French Open 3rd round with an easy win over Rita Grande today, she will now face another Russian, Vera Zvonareva.
May 24th 2004: Well done Masha! She defeated Barbara Schwartz 6-3, 6-0 in the French Open first round! Next up will be Italian Rita Grande!
May 23rd 004: Well, the time has arrived, Maria is scheduled to play in the French Open and will play her first round match tomorrow, she plays the opening match on court #6, see the full draw here.
May 21st 2004: Maria is now scheduled to play the French Open as the #18 seed, she will face Barbara Schwartz in her first match.
May 19th 2004: See 10 very good photos of Maria, mostly from Miami in gallery #23:)
May 13th 2004: Maria was upset 7-6, 6-0 today by Silvia Farina-Elia, a loss that was certainly disapointing.. Maria also lost in doubles with Gisela Dulko against Ruano-Pascual and Suarez.
May 12th 2004: Maria is again playing in doubles with Gisela Dulko, they won against Black and Callens 6-7, 6-2, 6-4 today…
May 11th 2004: Great news for Masha! She defeated Elena Dementieva today in Rome, a surprisingly easy win that will put her up against either Meghan Shaughnessy or Silvia Farina-Elia.
May 11th 2004: Read a new match preview for Maria's next match here:)
May 10th 2004: Now playing in Rome, Italy, Maria won her first match today 6-4, 7-5 against Tatiana Perebeynis, next up is #6 seed Elena Dementieva.
May 7th 2004: Maria and Nicole Pratt lost in the doubles quarterfinals, a loss against Paola Suarez and Virginia Ruano-Pascual, the #1 seeds.
May 6th 2004: Maria was unfortunately defeated today in the German Open 3rd round, a 3 set loss to Jennifer Capriati…But still congratulations to Masha, she will enter the top 20 on Monday:)
May 5th 2004: In singles, Maria did not have to play so long as when she was leading 5-4 against Petra Mandula, her opponent withdrew because of a right shoulder strain, she will now face Jennifer Capriati. Maria is also playing in doubles, she won her first round yesterday with Nicole Pratt against Tarabini and Tu.
May 4th 2004: Because of a withdrawl, Maria played her first match against Dinara Safina after all, she posted a 6-1, 1-6, 6-3 win over her fellow Russian and will now face Petra Mandula next.
May 1st 2004: Yeahh! Good news, Maria is back in action this week as she will play the German Open in Berlin. Her first match will be against Austrian Barbara Schett, see the full draw here.
Archives: July 2002, August 2002, September 2002, October 2002, November 2002, December 2002, January 2003, February 2003, March 2003, April 2003, May 2003, June 2003, July 2003, August 2003, September 2003, October 2003, November 2003, December 2003, January 2004, February 2004, March 2004, April 2004

Sports
Golf
FootBall
Basketball
Sports Betting
Fishing
Tennis
Baseball
Swimming